Father, Daughter Arrested For Domestic Violence
KSCB News - February 5, 2013 9:24 pm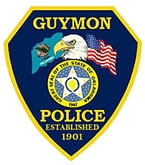 At approximately 2:17 in the afternoon, Officer Jesse Gomez was dispatched to 104 NE 23rd in reference to an intoxicated female tying to enter the residence, and that there was a possible family fight in progress, but that it was only verbal at the time being.
Gomez and and Sgt. Hampsten arrived at the location and were able to make contact with 61-year-old Donald Scott and were able to observe the female individual who was identified as Scott's daughter, 28-year-old Shayla Alvarado, along with boxes and luggage packed on the porch.
According to the incident report, Scott and Alvarado had been arguing for a few days about Alvarado's living situation in their home, and during that time he stated that his daughter had forced herself into the residence and shoved him by pushing the door.
Shayla denied that statement and she told the officers that her father had grabbed her by the throat, to which her father admitted to doing so as he sat her on the porch, which is where she was sitting when the officers arrived.
Gomez states in the report that he did observe what appeared to be red marks on Alvarado in the area that was consistent with being grabbed by the throat, and Gomez also observed a small laceration on the left hand of Scott that was said to have come about when Alvarado was attempting to get into the house.
Both individuals were placed under arrest for Domestic Violence Assault and were transported to Texas County Jail.