Dodge City Shooting Update
KSCB News - September 8, 2009 12:00 am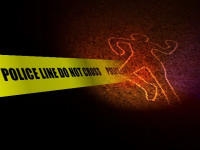 Dodge City police are investigating the
death of one man and wounding of another in a double shooting near
the Arkansas River.
Police Chief John Ball says 35-year-old Dodge City resident
Steven Holt died Monday after being shot twice in the chest.
Twenty-one-year-old Tanner Brunson, of Minneola, was shot twice and
is in intensive care Western Plains Regional Hospital.
Ball says his officers are still investigating.
Ball would not say if police are looking for a suspect, but did
say the handgun used to shoot both men has not been recovered.
The two men were driving a four-wheel-drive vehicle in the river
bed but were not in the vehicle when they were shot.