Democratic Lawmaker Launches Bid For Governor
KSCB News - February 18, 2010 12:00 am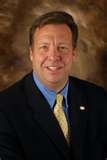 A Democratic lawmaker has launched his
campaign for Kansas governor with an attack on the presumed
Republican nominee.
State Sen. Tom Holland, of Baldwin City, suggested Wednesday
that U.S. Sen. Sam Brownback would bring gridlock and partisanship
from Washington to Topeka. Brownback is the only GOP candidate
campaigning.
Holland had a rally on a street corner, across from a Topeka
elementary school, with about 80 supporters.
Brownback's campaign didn't respond to the criticism, saying
he's focused on growing the economy. But the Kansas Republican
Party called Holland a liberal and questioned whether he'd stay in
the race long.
Holland is one of three Democrats seeking the party's nomination
in the Aug. 3 primary, but he has the backing of party leaders.