Bombs Away for Bee Jays in Win Over Valley Center
Brock Kappelmann - July 17, 2021 7:25 am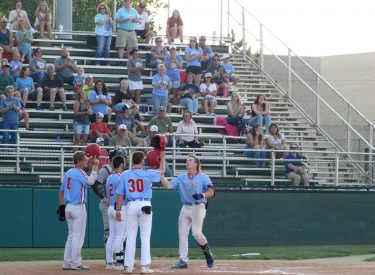 The Liberal Bee Jays blasted four home runs on the way to beating the Valley Center Mud Daubers 15-8 Friday night at Brent Gould Field.  Quintt Landis, Scott Anderson, Wyatt Grant, and newcomer KP Werner all homered.
The Bee Jays scored four in the second.  Scott Anderson walked and KP Werner reached on a fielder's choice.  Reed Thomas singled home a run in his first BJ at bat.  He is the son of former BJ player and coach Darin Thomas and brother of former BJ Ryan Thomas.  Quintt Landis admired his three run shot over the left field wall to give the BJ's a 4-0 lead.  The Bee Jays added two runs in the sixth.  Cayde Ward singled and Scott Anderson lined a hanging breaking ball over the wall in left for a 6-0 lead.  The Mud Dauber stung the BJ's for six runs in the fourth.  Liberal walked three and committed two errors in the inning.  Liberal took the lead back with two in the fourth.  Quintt Landis walked and Wyatt Grant lofted a homer to left to make it 8-6 Liberal after four.  In the sixth, the BJ's took a 9-6 lead as Quintt Landis doubled to right and AJ Folds doubled him home with a line drive to left center.  Valley Center scored two in the seventh on two hits and an error to make it 9-8.  Liberal scored three in the seventh to make it 12-8.  KP Werner reached on an error.  Reed Thomas ripped a double to right center to score Werner.  Cason Gregory singled.  Justin Harris hit a sac fly.  AJ Folds hit a sac fly.  Liberal added three more in the eighth.  KP Werner blasted a homer to left.  Reed Thomas doubled.  Cason Gregory reached on an error.  Justin Harris singled home a run.
Liberal out hit Valley Center 16-6.  The two teams were sloppy on defense as the Daubers committed four errors and the BJ's had three errors.
Quintt Landis was 3-4 with a homer and a double and made it on base five of six times.  AJ Folds was 2-3 with two doubles and two RBI's.  Reed Thomas was 3-5 with two RBI's and two doubles.  Ethan Swanson started the game on the mound and was dominant through three but ran into trouble in the fourth.  He went four innings striking out six.  He allowed six runs but only three were earned.  Cole Hillier went five innings allowing two unearned runs.  He struck out eight and did not issue a walk.
Liberal is 22-6 overall and 21-5 in KCLB games.  The BJ's had a 15-2 Jayhawk Divsion record.  Valley Center is 17-16 overall and 7-9 in the Jayhawk Divsion.  The same two teams meet Saturday night at Brent Gould Field at 7 with the Dugout Show at 6:45 on 1270 and kscbnews.net.  KSCB and First Southern Baptist Church are the buyout sponsors.  FSBC will be having VBS Sunday night through Thursday night.  You can register your kid for VBS at the Bee Jay game and they will be put into a drawing for a Kansas City Royals Family Ticket Pack-4 tickets and parking pass.  There will be free food for the first 100 in attendance.  Hot dog, chips, candy, and a drink.