Body Found Identified As Missing 14-Year-Old
KSCB News - August 26, 2010 12:00 am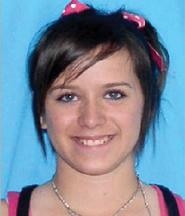 A body found near Great Bend has been identified as a 14-year-old who had gone missing.
Alicia Debolt was last seen voluntarily getting into a vehicle Saturday around 11 p.m. On Sunday around 1 p.m., her mother called police, who then involved the KBI to assist in the search.
An employee of an asphalt plant in Great Bend reported to police on Tuesday after finding burned human remains.
The body was visually unidentifiable, so the remains were sent to the Sedgwick County Regional Forensic Sciences Center for identification.
Police do not believe this was a random act. No arrests have been made and anyone with information is being asked to contact the Great Bend Police Department.
Great Bend Police Department at 620-793-4120
Great Bend Crime Stoppers at 620-792-1300
Kansas Bureau of Investigation at 1-800-KS CRIME
The Attorney General's office is handling the case.