Bob Dole To Visit Liberal, Surrounding Area
KSCB News - September 16, 2014 9:36 pm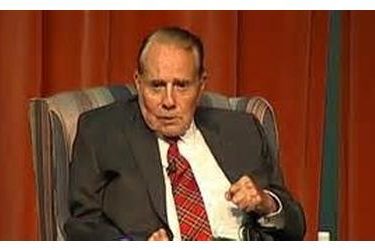 The Seward County Republican Party, in conjunction with the Liberal Chamber of Commerce, invites the public to an evening with former Senator Bob Dole. Senator Dole will be in Liberal on Tuesday, September 23, 2014, from 6 -7pm, at the Rock Island Depot, 4 Rock Island Road. Dole will share stories of his childhood in Kansas, his military experience, and his political career. He will also allow time for questions from the audience, and will be available for photographs.
Senator Dole represented Kansas in the United States Senate from 1969 to 1996 and in the House of Representatives from 1961 to 1969. In the 1976 presidential election, Dole was the Republican Party nominee for Vice President and incumbent President Gerald Ford's running mate. In the presidential election of 1996, Dole was the Republican nominee for President, unsuccessfully challenging incumbent President Bill Clinton.
This special evening with Senator Dole, is free of charge and open to the public. Light refreshments will be served. For more information, contact Joe Denoyer, Seward County Republican Party Chair, at 620-391-1538
You'll need Skype Credit Free via Skype
Stops on Sen. Dole's Southwest Kansas Tour:
Tuesday, September 23:
Kinsley, KS — Edwards County Fair Building (HWY 183, south of Kinsley) — 10:30 to 11:30 a.m.
Greensburg, KS — Kiowa Senior Center (431 S. Main St.) — 12:15 to 1:15 p.m.
Ashland, KS — Senior Community Center (800 Main St.) — 2:15 to 3:15 p.m.
Meade, KS — Beam Senior Center (624 Carthage) — 4:00 to 5:00 p.m.
Liberal, KS — Historic Rock Island Depot (4 Rock Island Road) — 6:00 to 7:00 p.m.
Wednesday, September 24:
Hugoton, KS — Stevens County Courthouse, Memorial Hall (200 E 6th St.) — 10:45 to 11:45 a.m.
Elkhart, KS — City Hall (433 Morton St.) — 12:30 to 1:30 p.m.
Johnson City, KS — Stanton Senior Center (205 E. Weaver) — 2:30 to 3:30 p.m.
Ulysses, KS — Grant County Senior Center (117 E. Grant) — 4:00 to 5:00 p.m.
Thursday, September 25:
Ulysses, KS – Sunflower Electric Power Corporation Plant Dedication — 11:00 a.m. to 12:00 p.m.
Satanta, KS — Dudley Township Library (105 N. Sequoyah) — 1:00 to 2:00 p.m.
Cimarron, KS — Over Fifty Center (205 South Main St.) — 3:00 to 4:00 p.m.
"I'm looking forward to my eighth trip back to my home state of Kansas this year," Senator Dole said. "I plan to enjoy lots of cookies and brownies along the way."