Berg Heads to Finals for Saints Tennis Team
Joe Denoyer - May 17, 2019 11:13 am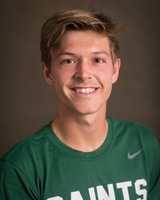 TUCSON, Ariz. – And then there was one. Alex Mesquida Berg will be the lone Saint to represent the Seward County Community College men's tennis team in the finals on Friday at Nationals. Berg, the third seed, will be playing in the No. 6 singles division against the top seed Tomas Santantonio of ASA Miami.
Berg advanced by rallying from a set down and knocking off the second seed Rohit Patil of Tyler JC, 3-6, 7-5, 6-4, in the semifinals on Thursday.
Sander Jans will also be playing the finals, but in the consolation round. Jans, who lost in the second round, defeated Bryce Livingston of Hinds to move into the finals. He will play Eastern Florida State's Fabricio Galvan on Friday.
In the other single matches, No. 1 Nicolas Rousset fell to ASA Miami's Toru Horie 1-6, 5-7, No. 3 Carlo Izurieta lost to Alex Parker of Tyler JC and No. 5 Gabriel Nery was beaten by Matt Carroll of ASA Miami, 4-6, 6-7.
In doubles, No. 2 Nyathi Motlojoa and Rousset were defeated by Carlos Matarredona and Luke Simkiss of Tyler JC 6-7, 4-6 and No. 3 Francisco Vargas and Izurieta were upended by Matthew Beecher and Karl Mosterd of Tyler JC, 2-6, 2-6.
Despite the losses in the semis, Seward is in third place in the team standings with 32 ½ points.