Bee Jays Run Rule Colorado Springs
Brock Kappelmann - July 10, 2023 10:01 pm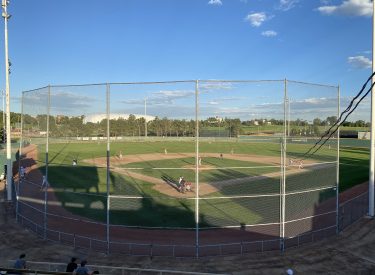 The Liberal Bee Jays made quick work of a shorthanded Colorado Springs Cage Rat team 10-0 Monday night at Spurgeon Field in Colorado Springs.  Tristan Crusenberry tossed a one hit shutout.  The game went five innings due to run rule.  The game only last 1.5 hours.
The Bee Jays scored three in the first.  River Jackson reached on an error.  Mateo Garcia ripped a double to right.  Justin Hudson, playing in front of home family and friends, ripped a two RBI double to left center.  Ethan Calder laced an RBI double.  The B.J.'s scored three in the second as well.  River Jackson walked to lead off the second.  Mateo Garcia tripled him home.  Walker Polk lifted a sac fly to right.  Owen May singled home a run for the 6-0 lead.  Nick Husovsky slapped a single to right to make it 7-0 in the third.  Ethan Calder doubled to lead off the fourth.  Owen May singled home another run.  Nick Husovsky blasted a home run to left in the fiftth.  Mateo Garcia singled and scored after a Justin Hudson singled and error.
Liberal out-hit Colorado Springs 12-1.  The Cage Rats had three errors and Liberal had one.  Mateo Garcia was 3-3.  Justin Hudson, Nick Husovsky, Ethan Calder, and Owen May had two hits a piece.
Liberal is 17-5 overall and 10-2 in the Rocky Mountain.  Colorado Springs is 11-13 overall and 5-9 in the RMBL.  The teams meet Tuesday night at 7pm central time on 1270 and 92.3.