Bee Jays Clamp Down on Dodge City in KCLB Opener
Brock Kappelmann - June 7, 2021 7:04 am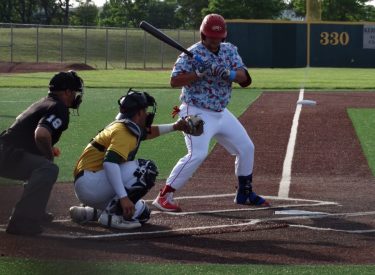 Fourth year Liberal Bee Jay Cole Evans got on some kind of roll Sunday night at Dodge City's Cavalier Field.  Evans struck out the last eight men he faced before another Liberal native Braxton Hyde pitched  four strong innings for the win as the Bee Jays took their Kansas Collegiate League and Jayhawk Division opener 11-1 over the Dodge City A's.
The game was low scoring early on as two pitchers capable of throwing in the mid 9o's locked horns as Robert Brodell was dealing for Dodge.  In the first after a Dodge City error, Blaine Thomas bounced a single over the first baseman's head to score AJ Folds.  Quinnt Landis drove a home run over the left field wall to lead off the second for the 2-0 lead.  After two walks, Liberal's Wyatt Grant laced a a two out RBI double off the wall in right for the 3-0 lead in the middle of the fifth.  Dodge City scored a run in the bottom of the fifth.  With the bases loaded and two outs in the seventh, Cayde Ward delivered a clutch two RBI double down the left field line for a 5-1 lead.  Dodge City pitching walked home two runs.  Liberal added four in the ninth.  Cayde Ward and Blaine Thomas singled ahead of a walk, an error, and an Elijah McCarter RBI single.
Evans went three strong innings with eight strikeouts and no walks.  Hyde worked four innings allowing one run and two hits.  Jack Hagan and Jack Chester worked scoreless innings.  Ward was 3-5 and has five hits in the first two games after a hand injury sidelined his season at Lubbock Christian.  Wyatt Grant and Blaine Thomas added two hits a piece.  AJ Folds was on base four out of six times.
Liberal out hit Dodge 9-5 but did leave nine men on base.  Dodge City had three errors and Liberal did not commit an error.  In two games, opponents have committed nine errors compared to Liberal's one.
Liberal is 2-0 and 1-0 in the KCLB's Jayhawk Division.  Dodge City is 2-2 and 0-1 in the Jayhawk Division and 1-1 overall in the Kansas Collegiate.  Liberal plays at Goddard Eisenhower against the Kansas Curve Tuesday night at 7 with BJ Dugout Show at 6:45 on 1270 and kscbnews.net.