Bee Jays Leave Greeley Feeling Gray
KSCB News - July 13, 2012 6:45 am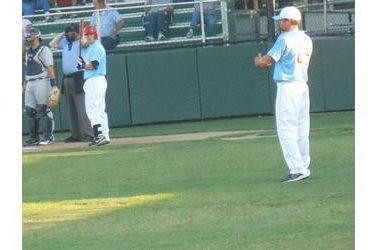 The Liberal Bee Jays got good news Thursday night. They played well enough to win their non league against CCBL's league leading Greeley Grays 11-0 in eight innings. After the game, Hays beat Dodge City 5-0 in Hays meaning the BJ's are tied for first in the Jayhawk League without playing a league game Thursday night.
Frank Phillips lefty 6'9" Brad Wieck (3-0) pitched seven scoreless innings and newcomer lefty from New Mexico Stephen Carabajal pitched a scoreless eighth. Carabajal will transfer to Yavapai.
Liberal scored four in the fourth, three in the sixth, and four in the eighth for a run rule win. Liberal is 7-0 in non league games and six have been run rule games. The Bee Jays are 23-10 overall and defeat a Greeley team leading the Colorado Collegiate Baseball League at 13-6.
The Bee Jay 17 hit attack was led by Travis Sibley, Derek Miller, and Sam Pack who had three hits a piece. Jake Barrios was 2-5 with two RBI's and Johnathan Sigado was 2-4 with two RBI's. Pack and Tyler Baker also drove home two runs a piece. Tyler Parmenter was 2-3.
Liberal hosts Greeley again Friday night at 7 p.m. on Brent Gould Field. OBGYN and Associates are the buyout sponsors. The next games on the radio will be Saturday and Sunday nights in Hays at 7 p.m. on Talkradio 1270 and kscbnews.net.
Liberal 16-10
Dodge City 16-10
Hays 15-10
Derby 14-15
El Dorado 12-17
Haysville 9-20