Bee Jay Rally Shocks Dodge City
Brock Kappelmann - June 23, 2023 6:54 am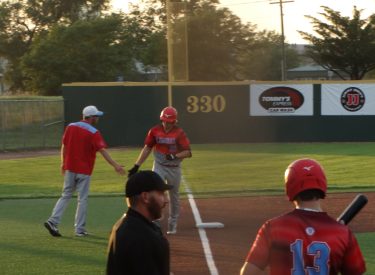 The Liberal Bee Jays scored four ninth inning runs to grab a 7-5 win over the Dodge City A's Thursday night at Dodge City's Cavalier Field.  The Bee Jays trailed 5-3 going into the ninth.  Liberal has won 14 of the past 15 against the A's.
The A's scored three unearned runs in the fourth after two B.J. errors.  The Bee Jays scored in the fifth to make it 3-1.  Silas Shafter singled and Owen Barger shot a double to right center to score a run.  DC scored one in the fifth for a 4-1 lead.  Justin Hudson hit a towering homer to left to make it 4-2.  Silas Shafer doubled and Owen May drove home the run to make it 4-3 in the seventh.  The A's scored a run in the bottom of the seventh for the 5-3 lead.  In the ninth, Sila Shafer led off with a single.  With one out, Owen Barger was hit by a pitch.  Owen May reached on a DC error to load the bases with one out.   River Jackson scored on a wild pitch at the protest of Dodge City who argued he was out.  Isaac Webb bounced a two RBI single up the middle for the 6-5 lead.  Walker Polk hit a sac fly for the 7-5 lead.
Liberal out-hit Dodge City 13-11.  Both teams committed two errors a piece.  Hunter Phillips pitched five innings allowing one earned run.  Konnar Williams worked four innings for the win.  He struck out three and walked one and allowed one run.  Silas Shafter was the Epic Touch Player of the Game going 3-4.  Ethan Calder was 3-5.  Isaac Webb was 2-5.
Dodge City is 6-7 overall and 5-6 in the Rocky Mountain Baseball League.  Liberal is 9-3 and 5-1 in the RMBL.  Liberal hosts the Denver Cougars Friday night at 7pm with Dugout Show at 6:45 on 1270 and 92.3.  Lewis Motors is the buyout sponsor.