Bee Jay Bats Come to Life in NBC Win
Brock Kappelmann - August 5, 2023 6:42 pm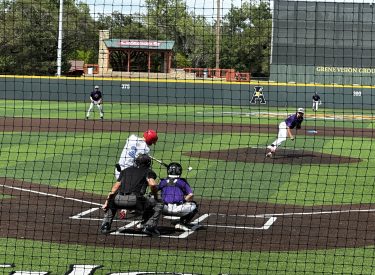 It was better late than never for the Liberal Bee Jays.  After trailing 4-2 in the middle of the fifth, the Bee Jays scored 10 runs in the next four innings to defeat D-BAT All Stars 12-4 Saturday afternoon at Eck Stadium in Wichita.  Liberal is 1-1 in the event.
D-BAT, made up of all stars from their leagues in Oklahoma City and Dallas, scored two in the first inning on four hits.  Liberal finally scored in the third when Mateo Garcia walked with the bases loaded.  Ryota Kusumoto ripped a lead off triple to the gap in left center.  He scored on a Coldon Kiser sacrifice fly.  D-BAT scored two in the fifth to lead 4-2.  River Jackson's clutch two out, two RBI single tied the game 4-4 in the fifth.  D-BAT loaded the bases with one out in the top of the seventh but Kage Ralstin induced a 4-6-3 double play from Owen May to Isaac Webb to Walker Polk.  That seemingly turned the momentum of the game.  Liberal scored four in the bottom of the seventh.  Jackson Schofield bounced a ground rule double to left to lead off the inning.  Ryota Kusumoto doubled him home for the 5-4 lead.  Hudson Polk ripped a line drive two run home run to center.  Coldon Kiser added an RBI single for the 8-4 lead.  Ethan Calder tripled to lead off the eighth to trigger a six run inning to end the game.  There were three walks and two hit batters in the inning.  Mateo Garcia's sacrifice fly ended the game with a 12-4 run rule after eight.
D-BAT out hit the B.J.'s 12-11 but D-BAT committed three errors and walked nine and hit three.  Holden Carpenter worked five innings on the mound allowing four runs with four strikeouts and one walk.  Luke Wilkerson, Kage Ralstin, and Josh Doerr worked scorless innings.  Liberal is 29-12 and plays Arlington Baptist Monday evening at 6pm on 1270 and 92.3.