Texas County Accident Injures New Mexico Man
Joe Denoyer - April 27, 2023 4:33 pm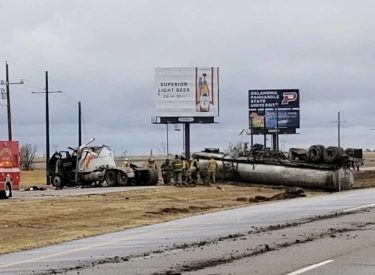 An injury accident occurred on Wednesday, April 26th, at approximately 6:45 pm on US-54 and N0830 road (Mile 28), approximately 3 miles southwest of Guymon in Texas County.
A 1999 Peterbilt Semi driven by Benjamin Jones,  27, of Clayton, NM was eastbound on US-54  while a 2019 Ford F-150 pickup driven by Benny Honea, 75, of Amarillo, TX was on Mile 28 heading west towards US-54. The F-150 failed to yield from the stop sign, pulling out in front of The Peterbilt. The semi hit the Ford in the front driver-side quarter panel causing the pickup to come to rest in the eastbound, outside lane of US-54. The semi-driver swerved to the left causing the cab and Trailer to separate from each other. The cab rolled 3 times coming to rest on its wheels. the semi-trailer rolled one time coming to rest on its top in the center median. The driver of Peterbilt was ejected approximately 20 feet from the point of impact.
Jones, the semi-driver, was transported by Guymon EMS to Northwest Texas HealthCare System in Amarillo, Texas, where he was admitted in stable but critical condition with trunk internal, trunk external, and leg injuries.
Honea was evaluated at the scene and cleared by Guymon EMS.