70 people to become US citizens Friday at Wichita State University
Joe Denoyer - April 5, 2022 3:25 pm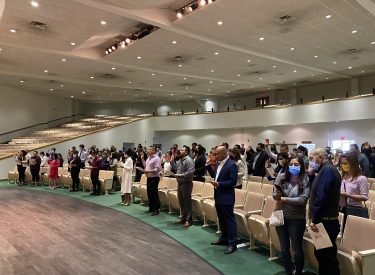 U.S. Citizenship and Immigration Services and the U.S. District Court of Kansas will welcome 170 people as new U.S. citizens Friday, April 8th at 11:00am at Wichita State University. Magistrate Judge Kenneth Gale will preside, and a clerk of the court will administer the Oath of Allegiance.
The citizenship candidates originate from 39 countries: Bangladesh, Bolivia, Burma, Cambodia, Cameroon, Canada, Congo (Kinshasa), Cuba, Czech Republic, El Salvador, Eritrea, Guatemala, Haiti, Hong Kong, India, Iran, Iraq, Jordan, Kenya, Laos, Malaysia, Mexico, Morocco, Nicaragua, Nigeria, Nepal, Pakistan, Panama, Peru, Philippines, Somalia, Sudan, Syria, Tanzania, Tunisia, Ukraine, United Kingdom, Venezuela and Vietnam.
The citizenship candidates live in Andover, Arkansas City, Bel Aire, Benton, Coffeyville, Colwich, Derby, Dodge City, Eureka, Garden City, Goessel, Great Bend, Hays, Haysville, Hill City, Hoxie, Hugoton, Hutchinson, Independence, Kismet, Lakin, Liberal, Marquette, McPherson, Newton, Salina, Syracuse, Turon, Wichita and Winfield, Kansas.
Musicians from Lawyers Pulling Strings will perform. The Northwest High School color guard will open the ceremony. The League of Women Voters will be in the lobby offering voter registration to new citizens wishing to register.
SCIS naturalized approximately 808,000 people in fiscal year 2021.