Suspect Identified in Guymon Liquor Store Robbery
KSCB News - March 19, 2010 12:00 am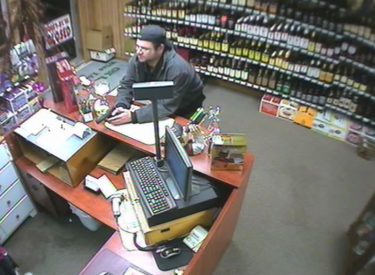 The suspect who robbed the OK Liquor Store in Guymon Oklahoma on January 25th has been positively identified as Stacy Lee Drake of Phoenix Arizona who has also been identified as being involved in other crimes in Arkansas and Alabama.
Stacy Drake, a convicted felon with a long list of crimes including burglary, kidnapping, armed robbery, and aggravated assault against a law enforcement officer who has spent many years in prison in Arizona, began a month long multi state crime spree in Guymon on January 25th when he robbed the OK Liquor Store at gunpoint. He then travelled to Fort Smith Arkansas on February 6th where he is alleged to have committed a home invasion robbery where two victims were assaulted. Following the crimes in Arkansas he made way his way to Gordo Alabama where on February 21st he allegedly committed an armed robbery in Alabama and then later a carjacking where the suspect fled from police officers until the vehicle he was in wrecked and he was taken into custody by officers. He is being held in Gordo Alabama on a bond of $375,000.00 for the charges in Alabama. In addition he is facing two felony counts of Aggravated Robbery in Arkansas and one count of Aggravated Robbery in Guymon Oklahoma.
In addition to state charges in Oklahoma, Arkansas, and Alabama the FBI has been contacted in regards to federal charges stemming from the multi state crime spree.
Guymon Authorities were contacted by Fort Smith Arkansas detectives after a photo was distributed via the Regional Organized Crime Information Center's email system and they recognized the suspect as the same suspect in their case and Alabama's.
Guymon Chief of Police Eddie Adamson commented on the case," We are glad that we were able to find the suspect who committed this Armed Robbery here in Guymon but with all that we have found out about him and his crime spree the real question is how many other crimes has this person committed that we do not know about yet in Oklahoma as well as other states."