Seward's McSpadden Resigns as Athletic Director
Brock Kappelmann - November 8, 2016 7:10 am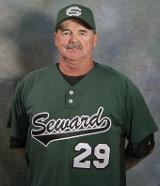 Longtime Seward athletic director Galen McSpadden has decided to step down.
McSpadden is resigning as athletic director but will
remain in the position until it is filled or until the end of spring June 30.
McSpadden will remain the Seward head baseball coach. This is his 33rd season
as AD. During his tenure as Athletics Director, the SCCC Athletic Department teams
(baseball, softball, men's basketball, women's basketball, men's tennis, and volleyball)
have captured 46 Jayhawk West Conference titles, 27 NJCAA Region 6 Tournament Championships.
McSpadden says he resigns as the position of athletic director has grown and needs
to be separated from coaching. He will continue coaching baseball as he enters his
36th year and is the Jayhawk's all time leader in wins with 1,196. He is 10th
in the NJCAA win wins. McSpadden is in the hall of fame at Seward, NJCAA, Kansas Baseball,
and Southeast Missouri State.