Seward Stays Hot Sweeping Clarendon
KSCB News - March 31, 2015 6:44 am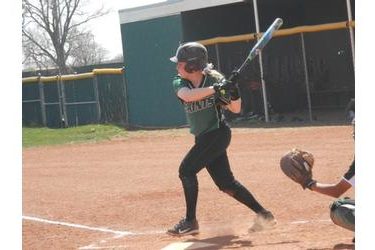 Seward's winning streak has grown to eight in a row. The Saints beat Clarendon 10-5 and 10-1 Monday afternoon at Lady Saints Field. Clarendon is 16-16 and defeated #3 Midland this season and had won five of the past six.
Seward won game one 10-5. The Saints scored five in the first before the Bulldogs put up a three spot in the second. Seward scored a second inning run to lead 6-3. Clarendon added a run in the fourth but the Saints countered with a run of their own to make it 7-4. Clarendon scored in the sixth but Seward answered with three runs in the bottom of the inning. Kolby Hamilton was 3-4 with two RBI's to lead Seward's 15 hit attack. Grace Peterson, Joe-Ann Rapoza, and Hannah Clark added two hits a piece. Alexa O'Brien was the winning pitcher.
In game two, Seward won in five run rule shortened innings. Seward scored two in the first, six in the second, one in the third and fourth innings. Peterson was 2-2 with three RBI's and Rapoza was 2-3 with three RBI's. Clark, Jaidyn Mawhinney, and Kolby Hamilton added two hits a piece. Jaclyn Wagner struck out seven and allowed just one hit.
Seward is 25-13 and hosts Dodge City Wednesday at 3 at Lady Saints Field.