Saints Stay Hot in Pratt Sweep
KSCB News - April 16, 2012 7:30 am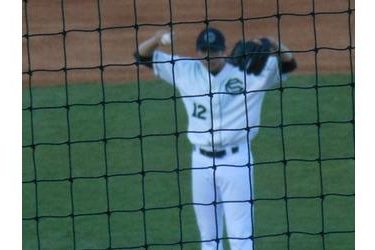 The Seward County baseball team stays hots sweeping Pratt Sunday night at Brent Gould Field 7-4 and 6-4.
In game one, Keegan Hucul (7-2) pitched five strong innings for the win striking out eight. Seward built a 6-0 lead scoring two in the first and four in the third. Ben Wainwright slugged a three RBI double off the wall in right to blow the game open in the third. Pratt came on late plating one in the fifth and three in the sixth. But Willie Gustin who saved six games last year came on for a scoreless seventh for his first save this season. Tanner Rainey was 3-3 with his second homer of the year. Wainwright was also 3-3. Jake Barrios was 3-4.
Gavin Glanz is 8-1 after going eight innings and allowing one earned run in game two. Seward scored four in the first and one in the second for an early 5-2 lead. The Pratt Beavers scored one in the fourth and one in the sixth to make it 5-4. Seward added an insurance run in the seventh to lead 6-4. Johnny Griffith pitched a perfect ninth for his fifth save. Rainey was 2-3 with a double and an RBI while Barrios was 2-3 with two RBI's. Steven Polito and Wainwright added two hits a piece.
Seward has won nine of their last 12 and stand 25-21 overall and 17-9 in first place in the Jayhawk West. Pratt is 22-19 overall and 10-12 in the Jayhawk West one year after being 6-26 in the conference.
The same two teams meet Monday at 1 p.m. on Talkradio 1270 and kscbnews.net.