Redskins Get By Guymon
KSCB News - April 22, 2014 7:13 am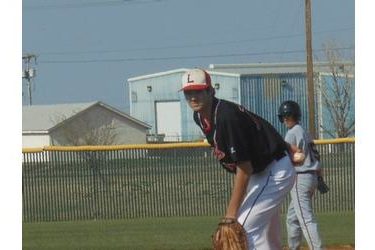 Liberal's baseball team overcame a sloppy defensive effort to hold off Guymon 9-6 Monday afternoon at the Liberal Baseball Complex. The Redskins win despite seven errors to slip by a Guymon team they defeated 17-3 in Guymon April 11.
The Tigers scored single runs in the first and third to take the lead. LHS tied the game with two in the third. The Skins broke it open with three in the fourth and three in the fifth to lead 8-2. The Tigers scratched back in it with four in the sixth to make it 8-6 and the Redskins plated an insurance run in the bottom of the sixth to lead 9-6.
Jared Fox pitched six strong innings for the win striking out three, walking one, and allowing four GHS hits. Kaiden Long pitched the final inning for the save.
Cristian Erives was 2-3 while Tim Fitzgerald was 1-3 with a double and two RBI's. Sylman and Lorenzo Pando were 1-3 with an RBI and Jared Hasik was 1-2 with a double and an RBI.
The Redskins are 7-4 and the Tigers are 2-15. LHS hosts 10-15 Woodward for one game at 5 p.m. Tuesday evening at the Liberal Baseball Complex.