Lady Buffs Attack Liberal
KSCB News - February 22, 2012 7:16 am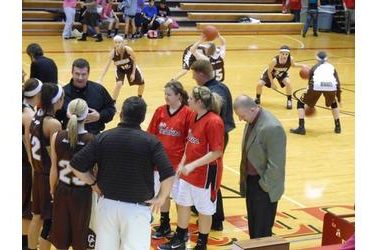 Everything about Garden City's offense indicated they were on the attack. No settling for three pointers. Their guards and posts attacked the paint in a 66-38 blowout at Liberal on Senior Night in the Big House. Garden beats Liberal for a sixth straight time and third straight in Liberal.
Liberal played the Lady Buffs a close game January 10 trailing by just seven in the fourth quarter. But Tuesday night the Lady Buffs (12-8, 5-3) led 39-16 at halftime and 53-26 after three quarters.
Garden City sophomore guard Taryn Tempel scored 20 in the win while freshman Jayme Bernbeck added 12.
Liberal sophomore guard Jai Chapman scored 12 to lead the Lady Redskins who are 3-16 overall and 0-7 in the WAC and finish 1-10 at home.
They play at Dodge City Friday night at 6 p.m. on Talkradio 1270 and kscbnews.net.