Hardesty Teen Killed In Accident
KSCB News - June 25, 2010 12:00 am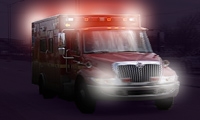 A 13-year-old boy is dead after a single-vehicle collision Thursday afternoon near the rural town of Hardesty, according to the Oklahoma Highway Patrol.
The accident occurred at 3 p.m. yesterday when a 2001 Ford, driven by Annabelle R. Morales, 17 of Hardesty, lost control on a county gravel road. According to the report from OHP, the vehicle entered a ditch in a broad slide and rolled two-and-a-half times coming to a rest on its top.
13-year-old Juan Cano of Hardesty was pronounced dead at the scene. Morales was admitted to the Memorial Hospital of Texas County with back injuries where she is listed in stable condition. Another passenger, Vidal Amador, 16 of Hardesty was treated and released at Memorial Hospital.
The two passengers and driver were ejected from the vehicle. Seatbelts were not in use. The collission was worked by OHP, Texas County Sherif s Dept., Hardesty Police, Hardesty Fire and Guymon EMS.