Garden City Airport In Jeopardy Of Losing Federal Funding
KSCB News - April 23, 2010 12:00 am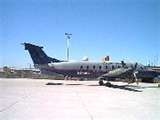 Officials plan to boost marketing for the Garden City Regional Airport to help the airport reach the passenger numbers it needs to get federal funding.
The airport needs 10,000 passengers each year to get about $1 million in federal funding.
Aviation director Rachelle Powell says Garden City has had about 2,100 passengers as of the end of March. At the current rate, airport officials anticipate about 8,500 passengers this year.
The federal funds go toward improvement projects at the small airport located nine miles east of town.