Cunningham Named Second Team – All Big 12
KSCB News - March 9, 2010 12:00 am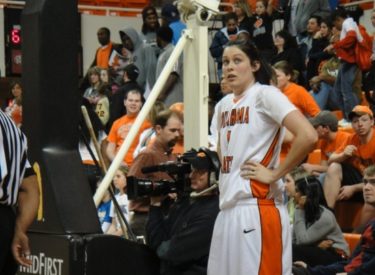 IRVING, Texas – Oklahoma State seniors Andrea Riley and Tegan Cunningham were named to the All-Big 12 women's basketball squad it was announced today by the league office. The honors were voted on by the conference's head coaches.
Riley was named a first-team selection for the third time in her career, while Cunningham was named to the second team for her first career honor.
One of four unanimous picks to the 10-player first team, Riley is currently leading the league in scoring for the third-straight year at 25.5 points per game and also leads the league with her 6.7 assists per contest. The Dallas, Texas native ranks third and fourth, respectively, in the nation and is the only player to rank in the top five in both categories.
Riley also ranks in the top 10 in the league in free throw percentage, steals, 3-point field goals made, assist-to-turnover ratio and minutes played. Four times this season she has been named the Big 12 Player of the Week.
She enters play this week 38 points shy of moving into sole possession of first place on the conference's all-time scoring chart.
Cunningham ranks as the league's No. 8 scorer at 16.4 points per game and is 10th in rebounding at 7.2 boards per game. The Melbourne, Australia native is fifth in the league in 3-point field goal percentage and minutes played as well.
Cunningham has a team-high seven double-doubles this season, which ranks sixth in the league.
The duo will be back in action on Thursday at 5 p.m. when the seventh-seeded Cowgirls take on Kansas in the first round of the Big 12 Championship in Kansas City, Mo.