Brownback Calls For Cheese Factory
KSCB News - August 16, 2010 12:00 am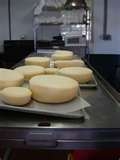 Cheese is now officially part of the
"Road Map for Kansas" from U.S. Sen. Sam Brownback as he runs for
governor.
At a stop in Dodge City during a statewide bus tour, the
Republican nominee said Friday his administration would promote
growth in animal agriculture and make dairies welcome in Kansas.
And, Brownback said, the state needs a major cheese processing
plant to expand market opportunities for the state's milk.
The Democratic nominee, state Sen. Tom Holland, has accused
Brownback of being vague about his plans as governor.
Holland spokesman Seth Bundy said Brownback needs to talk about
major issues. Bundy said after days of dodging tough questions,
Brownback finally got specific – about a cheese plant.