Bee Jays Suffer First Loss at NBC
KSCB News - August 12, 2009 12:00 am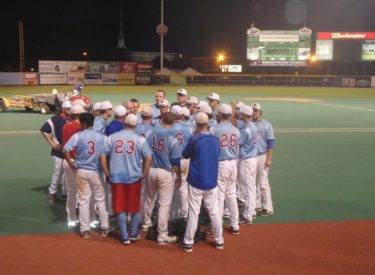 The Liberal Bee Jays early 3-0 lead was not enough as El Dorado scored four unanswered runs to defeat the Bee Jays 4-3 Wednesday in Wichita. The Broncos are now the only undefeated team at the NBC.
All three of the Bee Jays runs were unearned and scored in the fourth inning. The Broncos added three in the sixth to tie the game, and then hit a walk off single with the bases loaded in the ninth for the victory. Bobby Doran got the loss as he entered the game in the ninth giving up the winning run. Matt Hauser earned a no decision going 5 and 2/3 innings giving up three runs and striking out five.
The Bee Jays drop to 33-19 overall and 4-1 in the NBC. They are still just two wins away from playing in the National Championship Game and will play on Thursday at 10 p.m. against the Santa Barbara (CA) Foresters who are the defending NBC Champions. The game will air on 1270 AM and kscb.net.
Other NBC Scores:
Hays (KS) Larks 9, Crestwood (IL) Panthers 8
Anchorage (AK) Glacier Pilots 9, Valley Center (KS) Diamond Dawgs 0
Thursday's Schedule:
Conejo (CA) Oaks vs. Anchorage (AK) Glacier Pilots 5:00 PM
Hays (KS) Larks vs. El Dorado (KS) Broncos 7:30 PM
Santa Barbara (CA) Foresters vs. Liberal (KS) BeeJays 10:00 PM
For more information visit www.nbcbaseball.com