Balko Girls Looking for Gold Ball
KSCB News - February 29, 2012 3:15 pm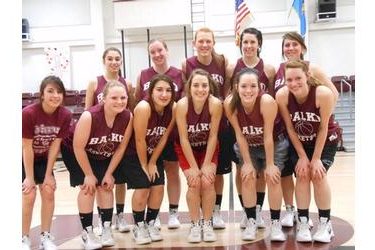 Balko High School looks the same as it did at this time last year. Spirit posters line the hallway after the Balko girls qualified for state. But there is a different feeling for the 26-1 Balko Lady Bison this year. Last year Balko was 25-4 and won a first round game over Red Oak. They lost by five in the semifinals to Corn Bible who went on to win state.
"Who's way? God's way." This has been the team motto for the Balko girls. They have the desire to not just show up at state but to win a gold ball this year.
Junior guard Jaylee Mays leads Balko at 17 points and five steals per game. She was knocked unconscious in a game this year. She came back with a brace on her face protecting her nose and scored only five points in the team's only loss to Hooker. But she has since figured out the brace and says it's just like wearing skin now.
Sophomores Madison Dearmin (5'10") and Riley Stockton average 10 points per game for Balko. Senior Kelsie Stephens is a four year starter averaging six points and four rebounds per game. Juniors Briana Brown and Trista Jackson and sophomore Danielle Gentry fill out the Lady Bison rotation.
Balko has been dominant in the postseason beating Gage in districts 73-34. They won their regional games 74-23 over Tyrone before a hard fought 42-40 win over Boise City. Balko beat Leedey 47-45 in areas to advance to state.
Balko plays Deer Creek-Lamont at 8:30 Thursday night at Choctaw. The other matchups are Red Oak and Timberlake at 2 p.m. Hammon and Arnett at 3:30 p.m. and Corn Bible vs. Lomega at 7p.m.