About 1000 Show Up For Education Rally
KSCB News - March 17, 2010 12:00 am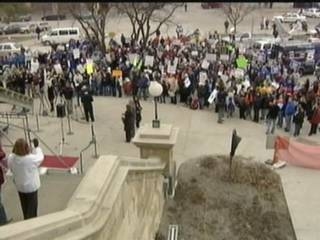 Hundreds of parents, teachers and students rallied at the Statehouse in Topeka to protest potential future cuts in education funding.
The crowd of about 1,000 people cheered Gov. Mark Parkinson on Tuesday when he called on legislators to raise taxes to protect schools from cuts. Wichita education leaders say they aren't taking a position on whether the state should raise taxes, but they do want state lawmakers to do something to ease the pain of major anticipated cuts to Kansas schools.
The Democratic governor led the crowd in chants of "We want what's right, and not what's left."
The crowd also chanted, "SOS! Save our schools!"
Parkinson has proposed raising sales and tobacco taxes to close a projected $467 million budget shortfall for the fiscal year that begins July 1.
He urged members of the crowd to e-mail their legislators, write them letters and attend their events.