A Deep Freeze Defeat
KSCB News - April 18, 2013 3:13 pm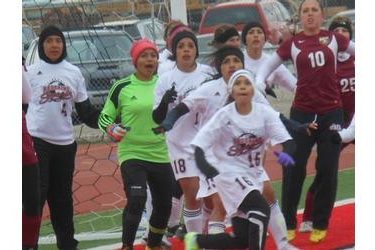 With temperatures in the mid 30's and winds out of the north in the mid 30's, Hays left Liberal in the deep freeze Thursday afternoon with a 2-1 win in overtime.
Liberal used the wind at their back in the first half to their advantage when Carolina Limon lofted a goal over the Hays goalie into the back of the net of the south goal. Crystal Vela dished the assist.
Liberal held the lead throughout the second despite many close calls as Hays used the wind to their advantage in the second half. But on a direct kick with 53 seconds remaining, Hays tied the game. Hays used the wind again in overtime and scored at the 3:55 mark in the first overtime for the win. That goal deflected off a Redskin player. Liberal players crumbled to the Redskin Field turf after the tough loss on a tough day weather wise. Magali Vazquez had 13 saves in the loss.
Liberal is 4-5 overall and 2-3 in the WAC while Hays is 7-2 overall and 4-0 in the WAC.
Liberal plays at Guymon on Tuesday.