940 Dance Company Coming To Liberal
KSCB News - September 21, 2009 12:00 am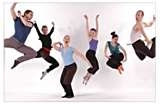 The 940 Dance Company, resident dance company of the Lawrence Arts Center, presents Prismatic, a concert on Saturday, September 26th at 7:30 pm at the James Maskus Auditorium. This performance is open to the public and tickets are available at Baker Arts Center.
The dances on the program will include: The Gleaners, a trio of women who are scavenging the remnants of the harvest; The Journey, a graceful quartet to the music of Arvo Part; Goldilocks, a fun retelling of the traditional tale; Elusive Memory, a reflection on forgetfulness; Resilience, a quintet that demonstrates the strength of the human spirit under challenging circumstances; and Prismatica, a dance of lights, where the audience is invited to wear special glasses.
The 940 Dance Company (formerly the Prairie Wind Dancers) is a professional modern dance company, which tours throughout the Midwest. The six-member company has been touring the region for the past 21 years, sharing dance through concerts, lecture/demonstrations, workshops and classes. This yearź??s company is composed of the Artistic Director, Susan Rieger, and dancers Katie Brennan, Jennifer Flynn, Bobbi Foudree, Eric Tedder, Ashley Trullinger and apprentice Jessica Molina.
The concert is sponsored in part by the Kansas Arts Commission, Liberal Convention and Visitorź??s Bureau, and Liberal Holiday Inn. For more information, please contact Baker Arts Center, 624 N Pershing, Liberal, 620-624-2810, www.bakerartscenter.org.