"Zombie Deer" Disease Affects Kansas, Found in Area
Joe Denoyer - October 7, 2019 11:44 am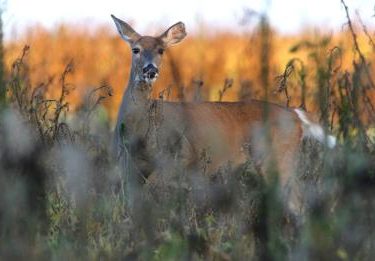 Animals with a disease known as "zombie deer" have been reported in 35 Kansas counties, according to the Centers for Disease Control and Prevention.
The term relates to animals that have contracted chronic wasting disease, a highly contagious and terminal disorder that causes symptoms such as lack of fear of humans, lethargy and emaciation.
The number of Kansas counties with the disease is up from 27 earlier this year. As of August, CWD has been reported in 23 other states.
The disease is neither viral nor bacterial. Instead, it is transmitted by prions – protein particles that have been linked to brain diseases including mad cow disease in cattle and Creutzfeldt-Jakob disease in humans.
Prion diseases damage brain tissue, leading to abnormal behavior, and are incurable.
The CDC has raised concern that chronic wasting disease may pose a risk to humans. Hunters should have all game tested before they consume any animals they kill.
The minimum time between exposure and the first symptoms is thought to be 16 months, according to a study posted to the Center for Food Security and Public Health. The average incubation period is two to four years. Some studies show that animals are contagious before symptoms start.
Wolff said finding just one is rare because the disease is so contagious and it remains in the environment for years.
A 2004 study in the Centers for Disease Control's Emerging Infectious Diseases journal showed two captive mule deer populations were infected with the disease in separate paddocks that hadn't had infected animals in them about two years.
Counties in Kansas Affected include:
Cheyenne
Decatur
Edwards
Ellis
Finney
Ford
Graham
Gray
Grove
Hamilton
Haskell
Hodgeman
Jewell
Kearny
Lane
Logan
Meade
Ness
Norton
Osborne
Pawnee
Pratt
Phillips
Rawlins
Reno
Rooks
Rush
Scott
Sheridan
Sherman
Smith
Stafford
Thomas
Trego
Wallace