Yucca Ridge Announces Men's Tour Winners
KSCB News - September 9, 2014 1:58 pm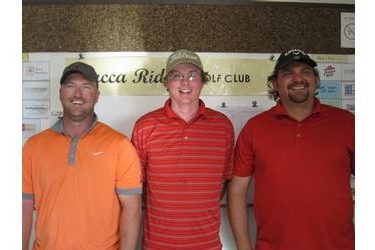 Just two weeks after winning his fourth straight "Men's Open Championship" at Yucca Ridge Golf Club Tyler Brungardt has done it again. Saturday Brungardt won his third straight "Men's Tour" title.
The 2014 Yucca Ridge Men's Tour came to a close on Saturday with ten players qualified and vying for the title. Players were matched according to their handicaps which are earned during the season of play. Low handicaps were paired with high to play out a two man scramble format for the first nine holes. The last nine holes are played as a two man lowball format plus keeping an individual score. Those scores were added to their season average and an individual score for each player kept during the lowball round to make a 36 hole score for the championship. Brungardt was the only player without a handicap because his average was below par for the season.
Brungardt finished the tournament with a score of 149.67 to claim his third Men's Tour Championship in a row at Yucca Ridge. Derek Fuller finished with a score of 152.14 to claim second place in the championship. Chad Taylor made a strong finish jumping to third place with a score of 155.40. Andy Lovato finished fourth. "We had a great year with great players and sponsors for the Men's Tour," said Superintendent Trent Kitch. "We use a computer in the scoring but it certainly makes it fun and interesting in the end."
Yucca Ridge is open for play daily. The next event will be the "Frienemy" tournament, a two person alternate shot format on Saturday, September 27th. You can call Kitch at 482-0243 or call the office at 624-GOLF to signup or for any information about golf at Yucca Ridge.