Youth Serves Bee Jays in Win
KSCB News - July 31, 2013 1:35 am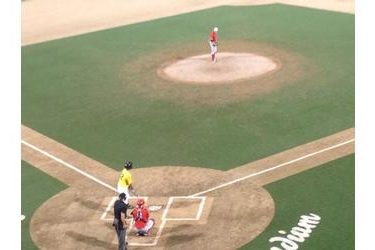 The a Liberal Bee Jays beat the Kansas Alumni 7-2 late Tuesday night at the NBC World Series in Wichita. Kansas Alumni is a group of primarily former pros.
The BJ's jumped all over Kansas Alumni for four in the first and two in the second for a 6-0 lead. Jason Dahl, Jon Mestas, and Brady Capshaw singled with one out. Two runs scored on an error before a two RBI single by Sam Pack. Mestas added an RBI double in the second before Capshaw's RBI single.
Mestas walked with the bases loaded in the eighth to make it 7-2.
Chad Reiser, who pitched for the Dodge City A's this summer, went seven innings with seven strikeouts, three hits, one walk, and one run in the win. Jose Rosales-Rodarte pitched the last two innings.
Liberal is 27-18 and plays the Cape Girardeau Capahas Wednesday at 1 on 1270 and kscbnews.net.