Wynn Wins KBCA Coach of the Year Award
Brock Kappelmann - June 25, 2018 2:07 pm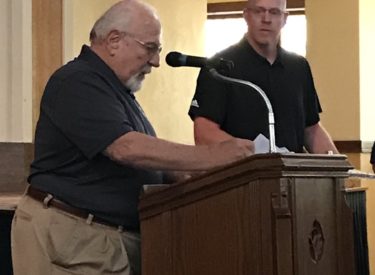 Long time Lady Saint head coach Toby Wynn received another award for his work at Seward County this weekend.  Wynn is the Kansas Basketball Coach's Association Junior College Coach of the Year.  Wynn received the award in Salina this weekend.  That's after his Lady Saints won the Jayhawk Conference and Region 6 championships this season.
The Booker, Texas native finished his 13th year as the Lady Saints head coach.   In 13 years as, Wynn has directed the Lady Saints basketball program to a 349-84 overall record.  He has led SCCC to the NJCAA Tournament in three of the past four years.
Last season (2017-18) the Lady Saints were 31-4 and finished in the top five at the NJCAA Tournament.  They won the Jayhawk for a second straight year and won the region for the first time since 2007.  Wynn is now the head women's coach at Emporia State.
Barton men's coach Craig Fletchall received the men's junior college award after Barton won the region on the men's side.