Workplace Shooting In Hesston Kills 4,Including Shooter
KSCB News - February 26, 2016 8:00 am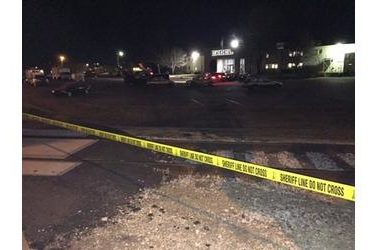 Law enforcement officers responded to the scene of a workplace shooting at Excel Industries in Hesston Thursday afternoon with reports of multiple fatalities and people wounded. The incident began about 4:40 p.m.
Harvey County Sheriff T. Walton confirmed at a 9 p.m. news conference that four people were dead, including the shooter, and 14 others were wounded. The shooter was an Excel employee.
Officials say area hospitals received 12 victims. Six victims were transported to Via Christi Hospital. Two victims are in critical condition and four victims are stable. Four victims were transported to Wesley Hospital. Officials say three are critical and one is in surgery. Newton Medical Center received four patients. All are in stable condition.
Sheriff T. Walton said the shooting started in Newton at 12th and Meridian. Two people were shot while driving their vehicles. One person was hurt. The other person wasn't. Walton says the shooter continued north on Highway 81 where he shot another person in the leg.
"There was a report of a stolen vehicle. That vehicle was the person that got shot. The shooter went on into Excel Industries. Once he got to Excel Industries, he shot a person in the parking lot, and he entered into the building itself," said Sheriff T. Walton. "Inside the building he shot a total of 15 people. Four were killed including himself, the shooter."
Walton said about 150 people were likely in the plant at the time of the shooting, and that the law enforcement officer who killed the suspect "saved multiple, multiple lives." He said the gunman had an assault weapon and a pistol.
The officer who killed the man is "a hero as far as I'm concerned," Walton said.
The incident lasted approximately 26 minutes from start to finish. Walton said the FBI and the Kansas Bureau of Investigation had been called in to assist.
"We have a team of KBI coming in. I have the FBI coming in. We've got all the local law enforcement here, and this will take some time to work through this," said Walton.
After the incident, Walton said officers had identified a house where the suspect lived. He said when officers attempted to enter the residence to conduct a search they were turned away.
After a delay in securing a warrant to search the residence, officers discovered after 10 p.m. the residence the person who had turned them away apparently had left. Officers then entered the residence to conduct their search.
Officials are now working to identify all victims and notify their families.
"We want to get the people who are so concerned that their loved ones have been shot or hurt. We want to get everybody identified, and we're working on that. We'll get that information out as soon as we can. I understand how hard it is for everybody else," added Walton. "This is just a horrible incident. … There's going to be a lot of sad people before this is all over."
Hesston is a community of about 3,700 residents about 35 miles north of Wichita. Excel Industries was founded in Hesston in 1960. The company manufactures Hustler and Big Dog mowing equipment and was awarded the Governor's Exporter of the Year award in 2013 from the Kansas Department of Commerce.