Wood Earns 2nd KJCCC Player of the Week Honors
KSCB News - October 6, 2015 4:18 pm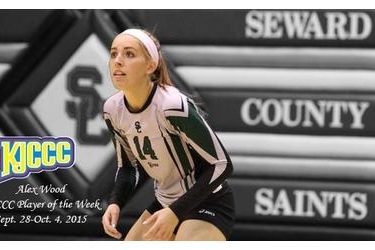 For the second time this season, Seward County sophomore Alex Wood has been named the KJCCC Player of the Week in a league release Tuesday.
In a busy week of competition for the Lady Saints, Wood rose to the cream of the crop once again for Seward County. She had three double-doubles and finished the week averaging 3.23 kills and 2.55 digs per set for the Lady Saints. In a pair of Jayhawk West wins Monday and Wednesday, Wood finished off 13 kills and had just two errors for Seward. Saturday she started the Tyler Invitational with 12 kills and 11 digs in a win against New Mexico Military and backed that up with two straight 19 kill performances against #11 Panola and Paris. She finished the tournament against the nation's top ranked team with 8 kills and 10 digs.
Wood currently ranks second in the Jayhawk West with 3.07 kills per set on the season while she is one of just two players in the league to average at least 3.00 kills and 2.50 digs per set on the year.
Wood and the Lady Saints will be back in action on Wednesday when they host Jayhawk West rival Hutchinson in the Greenhouse for a 6:30 start. With first place in the Jayhawk West on the line, it will be Pack the House Night sponsored by Pizza Hut where Pizza Hut will be giving away hundreds of prizes throughout the night including coupons for free pizzas, free buffets, free desserts, and more to every Seward County student that is in the Greenhouse before the start of the match.
Roy Allen