Woman Sentenced to 1 year for Embezzling from the City of Optima
KSCB News - July 15, 2009 12:00 am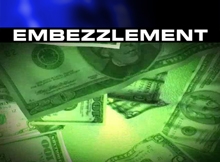 A Guymon woman is now incarcerated after embezzling over $10,000 from the City of Optima.
According to a story in the Guymon Daily Herald, Dawn Victoria Williamson, 30, embezzled approximately $11,635.23 between July 2006 and May 2007. According to the Summary of Facts filed at the Texas County Clerks Office, Williamson fraudulently appropriated the money from the City of Optima. The money had been entrusted to her.
Williamson pled guilty on April 24, 2009 to the felony charge of embezzlement. The maximum punishment for this crime is five years in jail and/or $5000 and restitution.
Appearing in court on July 7, Williamson was sentenced to five years all suspended and one year in a Department of Corrections facility.
Williamson was being held at the Texas County Detention Center until yesterday when she was transferred to an Oklahoma State Department of Corrections facility.