Woman Freed From Pet Python
KSCB News - April 15, 2011 8:35 am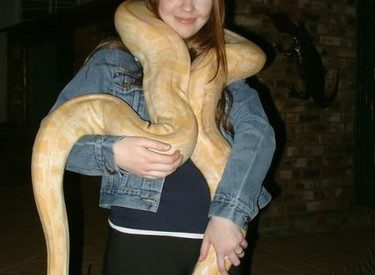 City officials are recognizing an officer who reached into the jaws of a pet 8-foot albino python and pried it from the neck of its owner.
Lyons Police Chief Chris Detmer says the incident occurred this week when the woman pulled the snake from its cage to feed it. The snake grabbed her neck and latched on. Her children called 911.
Officer Max Bryant responded to the call. He took the snake by its snout and lower jaw and forced its mouth open, freeing the woman.
Detmer said the woman, who was not identified, was treated for scratches to her neck.
The snake was taken in by a friend of the owner who doesn't have children.
Bryant will receive a citation for his bravery.