Winter Storm Watch issued for most of Kansas
KSCB News - January 31, 2011 7:25 am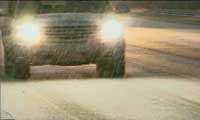 Winter storm warnings have been issued for the eastern 2/3rds of the state. This includes Wichita through Salina to Concordia and locations Eastward. Winter weather advisories have been issued for the remainder of the state, where less snow accumulation is likely.
Snow accumulation amounts for KAKEland will continue to be refined as new model data becomes available. At this point, accumulating snow is becoming more likely in Wichita, starting late Monday and continuing through Tuesday. Here are the latest snow accumulation forecasted amounts. These accumulations are TOTAL accumulations expected by Tuesday night.
Northwest Kansas (Colby, Goodland, Hill City): 2-4"
Southwest Kansas (Garden City, Dodge City, Elkhart, Liberal): 2-4"
North Central Kansas (Salina, Hays, Russell, Great Bend): 4-8"
South Central Kansas (Wichita, Hutchinson, Winfield, Ark City): 3-7"
Temperatures will continue to fall throughout the week with wind chills below zero by Monday night through at least Wednesday.