Wind Blows Out and Runs Pour in for Saints
Brock Kappelmann - March 6, 2023 1:27 pm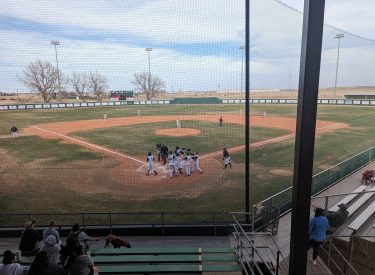 With wind blowing out and temperatures in the 70's, the Seward baseball teams swept the Redlands Cougars 16-3 and 19-9 Sunday at Brent Gould Field.  Both games were called short due to run rule.  The Saints sweep the four game series with Redlands.
The Saints didn't waste any time in game one scored four in the first, four in the second, and eight in the third.  The Saints out hit the Cougars 13-5 while Redlands committed three errors and SCCC had one.  Cameron Cartwright, Elijah Bear, and Trenton Rowan all homered in the win.  Rowan drove home four runs and Bear had three RBI's.  Ranse Radtke had three RBI's.  Tristan Curless went all five innings with four strikeouts and no walks.
The Saints used the big inning in game two as well. The Saints hit five home runs in the win.  SCCC plated one in the first, six in the fourth, 10 in the fifth, one in the seventh, and one in the eighth.  Redland's big inning was a six run seventh.  Ranse Radtke hit for the cycle and was 4-6 with four runs.  Cameron Cartwright hit two home runs with six RBI's.  Elijah Bear and Jaxson Gregg hit home runs.  Connor Cox went 3-5.  Trent Gerber pitched six innings allowing three earned runs with five strikeouts and no walks.  Brady Ritzmann pitched 1 and 2/3 scoreless innings.
The Saints are 9-11 overall and Redlands is 8-12.  The Saints play at Butler Thursday at 1pm on kscbnews.net.