Wind Advisory Posted for Monday
KSCB News - February 18, 2013 6:16 am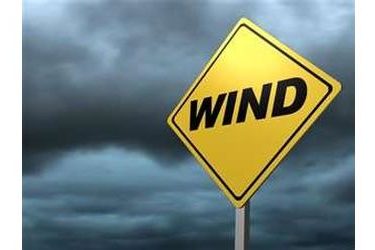 …WINDY CONDITIONS EXPECTED TODAY…
.A COLD FRONT WILL SWEEP THROUGH WESTERN KANSAS THIS MORNING.
WINDS ALONG AND BEHIND THE FRONT WILL EXCEED 30 MPH WITH HIGHER
GUSTS TO AROUND 45 MPH AT TIMES. WINDS WILL SLOWLY WEAKEN THROUGH
THE AFTERNOON HOURS.
KSZ030-031-043>046-061>066-074>081-084>090-181530-
/O.NEW.KDDC.WI.Y.0006.130218T0720Z-130218T2100Z/
TREGO-ELLIS-SCOTT-LANE-NESS-RUSH-HAMILTON-KEARNY-FINNEY-HODGEMAN-
PAWNEE-STAFFORD-STANTON-GRANT-HASKELL-GRAY-FORD-EDWARDS-KIOWA-
PRATT-MORTON-STEVENS-SEWARD-MEADE-CLARK-COMANCHE-BARBER-
INCLUDING THE CITIES OF…WAKEENEY…CEDAR BLUFF RESERVOIR…
HAYS…ELLIS…SCOTT CITY…DIGHTON…NESS CITY…LA CROSSE…
RUSH CENTER…SYRACUSE…LAKIN…DEERFIELD…GARDEN CITY…
KALVESTA…JETMORE…HANSTON…LARNED…BURDETT…ST. JOHN…
STAFFORD…HUDSON…JOHNSON CITY…ULYSSES…SUBLETTE…SATANTA…
CIMARRON…MONTEZUMA…DODGE CITY…BUCKLIN…KINSLEY…LEWIS…
GREENSBURG…HAVILAND…PRATT…ELKHART…RICHFIELD…HUGOTON…
MOSCOW…LIBERAL…KISMET…MEADE…FOWLER…ASHLAND…MINNEOLA…
COLDWATER…PROTECTION…MEDICINE LODGE…KIOWA…SUN CITY
120 AM CST MON FEB 18 2013 /1220 AM MST MON FEB 18 2013/
…WIND ADVISORY IN EFFECT UNTIL 3 PM CST /2 PM MST/ THIS
AFTERNOON…
THE NATIONAL WEATHER SERVICE IN DODGE CITY HAS ISSUED A WIND
ADVISORY…WHICH IS IN EFFECT UNTIL 3 PM CST /2 PM MST/ THIS
AFTERNOON.
* TIMING…THROUGH 3 PM CST.
* WINDS…25 TO 35 MPH WITH GUSTS TO AROUND 45 MPH AT TIMES.
* IMPACTS…WINDS OF THIS MAGNITUDE CAN BLOW AROUND LOOSE OBJECTS
INCLUDING TRASH CANS AND LAWN FURNITURE, AS WELL AS MAKE DRIVING
DIFFICULT.