Wind Advisory Posted for Friday
KSCB News - May 18, 2012 6:00 am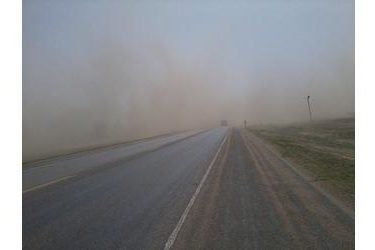 URGENT – WEATHER MESSAGE
NATIONAL WEATHER SERVICE DODGE CITY KS
1138 PM CDT THU MAY 17 2012
…VERY STRONG WINDS WILL DEVELOP BY LATE FRIDAY MORNING…
.A TIGHT PRESSURE GRADIENT WILL EVOLVE ACROSS MUCH OF WESTERN
KANSAS FRIDAY, AS A TROUGH OF SURFACE LOW PRESSURE NEAR THE
COLORADO BORDER DEEPENS. THIS TIGHT GRADIENT WILL COMBINE WITH
STRONG WINDS MIXING DOWN TO THE SURFACE AND RESULT IN SUSTAINED
WINDS OF 30 TO 35 MPH BY LATE MORNING.
KSZ031-045-046-063>066-076>081-085>090-181100-
/O.CON.KDDC.WI.Y.0022.120518T1600Z-120519T0100Z/
ELLIS-NESS-RUSH-FINNEY-HODGEMAN-PAWNEE-STAFFORD-HASKELL-GRAY-FORD-
EDWARDS-KIOWA-PRATT-STEVENS-SEWARD-MEADE-CLARK-COMANCHE-BARBER-
INCLUDING THE CITIES OF…HAYS…ELLIS…NESS CITY…LA CROSSE…
RUSH CENTER…GARDEN CITY…KALVESTA…JETMORE…HANSTON…
LARNED…BURDETT…ST. JOHN…STAFFORD…HUDSON…SUBLETTE…
SATANTA…CIMARRON…MONTEZUMA…DODGE CITY…BUCKLIN…KINSLEY…
LEWIS…GREENSBURG…HAVILAND…PRATT…HUGOTON…MOSCOW…
LIBERAL…KISMET…MEADE…FOWLER…ASHLAND…MINNEOLA…
COLDWATER…PROTECTION…MEDICINE LODGE…KIOWA…SUN CITY
1138 PM CDT THU MAY 17 2012
…WIND ADVISORY REMAINS IN EFFECT FROM 11 AM TO 8 PM CDT
FRIDAY…
* TIMING…STRONG WINDS WILL DEVELOP ACROSS WESTERN AND NORTH
CENTRAL KANSAS BY NOON AND CONTINUE THROUGH THE LATE
AFTERNOON.
* WINDS…WINDS WILL BE FROM THE SOUTH AT 25 TO 35 MPH WITH
GUSTS TO 45 MPH.
* IMPACTS…WINDS THIS STRONG CAN MAKE DRIVING DIFFICULT…
ESPECIALLY FOR HIGH PROFILE VEHICLES…AND EASILY BLOW AROUND
LIGHT WEIGHT ITEMS SUCH AS LAWN FURNITURE AND TRASH CONTAINERS.
PRECAUTIONARY/PREPAREDNESS ACTIONS…
WINDS THIS STRONG CAN MAKE DRIVING DIFFICULT…ESPECIALLY FOR
HIGH PROFILE VEHICLES. USE EXTRA CAUTION.