Wilburs Named Coach of the Year
Brock Kappelmann - March 4, 2021 3:55 pm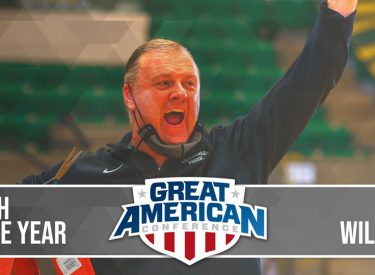 Liberal native Dave Wilburs is the coach of the year in his conference.  Here is the Arkansas Tech release.
Arkansas Tech Golden Suns head coach Dave Wilbers was named the Great American Conference Coach of the Year for the first time in his career while Ashlei Lopez was also named the Newcomer of the Year as the league office announced its annual All-Conference recipients and superlative awards on Tuesday afternoon.
Lopez was also named a unanimous First-Team All-GAC selection. Joining Lopez as a unanimous First-Team All-GAC selection was Jayana Sanders. Kaley Shipman rounded out the awards for the Golden Suns, earning honorable mention All-GAC.
---
In earning GAC Coach of the Year, Wilbers has led the Golden Suns to a 13-1 overall record and 12-1 recorded GAC record this season, securing the team's 26th regular season championship and the No. 1-seed in the GAC Eastern Division leading into the championship tournament. Wilbers and the Golden Suns started the season off 10-0 for the first time since the 2008-09 season.
Under Wilbers' direction, the 2020-21 Golden Suns lead the GAC and are third in the nation in field goal percentage, shooting 49 percent from the field. The Golden Suns also lead the league in points per game, averaging 86.7 ppg, good for fourth-best in the nation.
In their second game of the season, Wilbers secured his 300th career win as a head coach, all at the helm at Arkansas Tech. Wilbers is ranked second in all-time wins in program history and has coached nine 20-win seasons and two 30-win seasons with the Golden Suns.