Wichita Southeast Sinks Liberal's State Hopes
Brock Kappelmann - March 5, 2023 8:12 am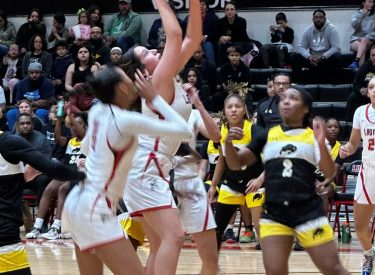 Wichita Southeast came into the Big House Saturday evening and led from start to finish in a 57-51 win over the Liberal Lady Redskins.  LHS drops their third straight sub state final.  The Lady Buffaloes, coached by former Saint basketball player Donald Dixon, make state for the first time since 1988.  Liberal struggled with fouls as three starters fouled out and one starter was ejected. An LHS player also received a technical foul.  Southeast shot 39 free throws.
Much of the crowd wore green in support of LHS senior wrestler Tommy McClure.  McClure is in the hospital after a liver transplant surgery Friday.  There was a silent auction held for the medical expense before the game.  Fans wore green because that is McClure's favorite color.
Southeast jumped on the Lady Red 7-2, 11-4 and 17-12 after one.  Southeast was successful speeding the ball up the court leading to high percentage transition opportunities and forcing fouls on LHS.  The Lady Buffaloes led in the second quarter 22-12, 26-16, and 28-18 before taking a 31-20 lead into halftime.  Liberal's best quarter was the third quarter as they outscored SE 18-12.  the crowd roared as the Lady Red made their run.  Liberal used a 7-0 run to make it 31-27 with 5:38 to play.  LHS cut the lead to 36-34 with 2:10 to play.  LHS made it 40-38 late in the third quarter but Southeast's Tiana Hardwell hit a big three to make the scored 43-38 at the end of three.  Southeast led 45-38 with 6:15 to play and then ran the clock down to 4:39 and made a free throw to lead 46-38 and run off clock.  With the score 47-38 and after a jump ball on a missed free throw, Southeast's Tiana Hardwell and Liberal's Hailey Contreras were ejected for a confrontation .   Meanwhile, Rylie Hallman, Keyona Hall, and Hallie West fouled out of the game in the fourth quarter as Liberal was attempting a comeback.   Southeast led 48-40 with 3:27 to play but Liberal cut the lead to 48-45 with 2:47 remaining.  Southeast led 50-45 with 2:42 to go.  Liberal cut the lead to two in an inbound play to Jenna Ormiston to make it 52-50.  Southeast took care of the ball and made enough free throws for the rest of the game.
The Lady Redskins shot 34 percent going 2-10 from three point range and 23-29 at the foul line.  Southeast shot 42 percent and were 3-10 from three.  Southeast was 22-39 at the foul line.  Liberal committed 15 turnovers and forced 13 turnovers in the loss.  Southeast had 10 steals while Liberal had just four.  LHS out rebounded SE 28-24.
Rylie Hallman was Epic Touch Player of the Game with 12 points.  Elle Hatcher, Keyona Hall, and Hailey Contreras scored eight a piece.  Shamri Lewis grabbed seven rebounds.
Southeast is 16-6.  Liberal finishes 17-4.