Wichita Heights Hands Redskins 52 Point Loss
Brock Kappelmann - March 2, 2022 8:52 pm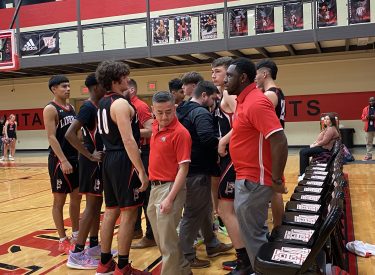 Wichita Heights is as tradition rich as any 6A boys program.  Perry Ellis, Antoine Carr, Darnell Valentine, Aubrey Sherrod, Ricky Ross, and others have donned Heights Falcon red and black.   It may have seemed like they were back in Heights uniforms on Wednesday night as Heights throttled Liberal 75-23 at Wichita Heights.  Liberal finishes 4-17; it's their worst record since going 2-19 in 2002.
The Falcons soared early building a 19-2 lead and led 30-5 after one quarter.  Heights led 45-11 at the half against the outmatched Redskins.  It was 61-23 after three.  The fourth quarter was played with a running clock.
Aldo Avalos and Chris Robledo scored seven apiece in the loss.
Liberal loses their sixth straight sub state opener.  Their last post season win came in 2016 against Maize.  The Skins have lost seven straight in the post season.
Heights, the #2 team in the state is 19-2.  Liberal finishes with eight straight losses.