Why Being There Matters, Hugoton Man Serves Aboard USS Porter
Joe Denoyer - December 7, 2016 3:41 pm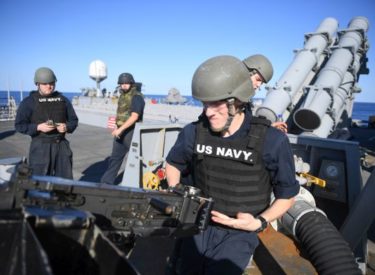 161204-N-JI086-086 - MEDITERRANEAN SEA (Dec. 4, 2016) Petty Officer 2nd Class Marcus Benavides, from Hugoton, Kan., racks a .50 caliber machine gun during a small craft action team exercise aboard the guided-missile destroyer USS Porter (DDG 78), Dec. 4, 2016. Porter, forward-deployed to Rota, Spain, is conducting naval operations in the U.S. 6th Fleet area of operations in support of U.S. national security interests in Europe. (U.S. Navy photo by Seaman Ford Williams/Released)
On our planet, more than 70 percent of which is covered by water, being there means having the ability to act from the sea. The Navy is uniquely positioned to be there; the world's oceans give the Navy the power to protect America's interests anywhere, and at any time. Your Navy protects and defends America on the world's oceans. Navy ships, submarines, aircraft and, most importantly, tens of thousands of America's finest young men and women are deployed around the world doing just that. They are there now. They will be there when we are sleeping tonight. They will be there every Saturday, Sunday and holiday this year. They are there around the clock, far from our shores, defending America at all times.
Petty Officer 2nd Class Marcus Benavides, from Hugoton, Kan., is receiving training aboard the guided-missile destroyer USS Porter (DDG 78). Porter, forward-deployed to Rota, Spain, is conducting naval operations in the U.S. 6th Fleet area of operations in support of U.S. national security interests in Europe.
Marcus is the son of Vero Benavides of Hugoton.