Wheat Harvest In Kansas Underway
KSCB News - June 17, 2009 12:00 am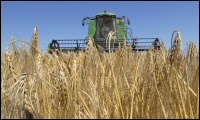 The first loads of the 2009 Kansas winter wheat crop are coming in.
The OK Co-Op Grain Co. in Kiowa reported Wednesday that harvest has started "in pretty good fashion" once fields dried from the weekend rains.
Interim manager Kelly Davidson said the elevator took in about 250,000 bushels of wheat after cutting began in earnest Tuesday afternoon.
Quality is fair with test weights averaging about 59 pounds per bushel.
Davidson said he expects to have a decent harvest, although it won't be a bin breaker. Early reports are that the yield is a little bit better than expected.
Kiowa is typically the first place in the state to begin wheat harvest.