What a Difference at Day Makes for Bulldogs
KSCB News - June 26, 2013 6:47 am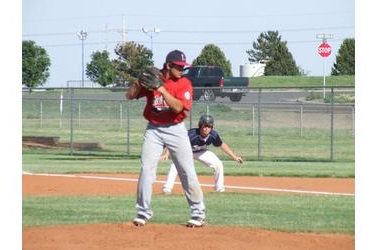 The Liberal Bulldogs played drastically better Tuesday than they did on Monday. There were no blown leads and not many errors in a split with the Woodward Travelers Tuesday evening at the Liberal Baseball Complex. Woodward won the first game 4-2 and Liberal took game two 10-2.
In game one, Woodward scored one in the first, one in the fourth, and two in the sixth. The Bulldogs scored one in the third and one in the fifth. George Fitzgerald pitched for the Bulldogs and helped keep the Dogs in the game. Liberal was also much better on defense with just one error.
In game two, Liberal broke through. A Brandyn Terrazas two RBI single helped the Bulldogs take a 3-1 lead aftger one. Woodward scored one in the second and Liberal scored one in the third. The Dogs scored six runs in the fifth all with two outs. Kaden Long smacked a two RBI single. Tim Fitzgerald got the win on the mound.
The Bulldogs are 15-14 and play Hooker at home Thursday at 6. Liberal t-ball and blast ball teams get to run the bases during the game.