Western Kansas Lawmaker Tabbed As Wildlife & parks Chief
KSCB News - January 7, 2011 1:09 pm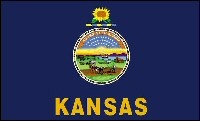 Governor-Elect Sam Brownback announced today he has chosen former House Speaker Robin Jennison to lead the Kansas Department of Wildlife and Parks in his administration.
Jennison brings more than 22 years of experience of serving in the Kansas Legislature, influencing state policy on behalf of Kansas interests, and promoting the state's natural assets to expand outdoor recreations. Elected to represent the 117th House District, Robin quickly rose through the ranks, serving as Assistant Majority leader in his second term, Chairman of the House Appropriations Committee in his third term; before becoming House Majority Leader in his fourth term and then finally, Speaker of the House.
As president of Jennison Government Services, he has represented businesses, associations, groups and other entities before the state legislature and regulatory agencies of Kansas. Robin is a well-respected and knowledgeable hunter who anchored the Kansas Outdoors Radio Show for four years and assisted Governor-Elect Sam Brownback with the development of the Governor's Pheasant Hunt. He has been a partner in the Jennison Ranch located near Healy for more than 33 years.
The Healy native must be confirmed by the Kansas Senate when the Kansas Legislature returns next week.