Western Kansas Grocery Store Wins Small Business Award
KSCB News - November 16, 2012 10:13 am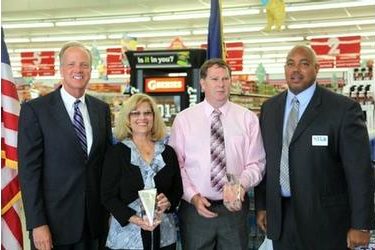 A western Kansas couple, Gordon and Mary Jenkins, have earned the 2012 Kansas Small Business Persons of the Year Award.
These owners were praised for their grocery store, Cimarron Shurfine Foods, which serves Cimarron, Kan., pop. 2,000.
As the only grocery store owners to receive this award from the Small Business Administration, the Jenkins were honored for their customer service, community outreach and business growth.
The couple purchased the local grocery in 2007, and since then, has strived to uphold small-town values by caring for their customers.
"Our main goal is customer service. We want to take care of our customers and make the store a clean place for customers to shop," Mary Jenkins said.
Since purchasing the store, the Jenkins have transformed what they described as a typical small-town grocery store, into a one-stop shop with a Subway restaurant, full-service bank, hot and cold delis, photo kiosk, catering service, video rentals and recently added liquor store.
Customers also can purchase money orders and obtain hunting and fishing licenses.
"We want to be able to offer Cimarron customers anything they would go out of town for," Mary Jenkins said. "If we can keep them in town, that's good for Cimarron."
It is also this customer service that helps Cimarron Shurfine Foods remain competitive with the nearby, larger stores located in Dodge City, Kan. and Garden City, Kan., Gordon Jenkins said.
"Customer service is one of the most important things in business today," he said.