Western Kansas Grain Facility Cited After Fatality
KSCB News - December 21, 2010 2:30 pm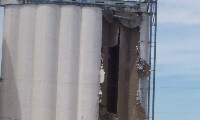 The U.S. Department of Labor's Occupational Safety and Health Administration has issued CHS Inc., doing business as United Plains Ag in Weskan, Kan., one willful and one serious citation following the death of a worker who fell through an access hole in a grain bin and was killed. The company allegedly exposed employees to fall and unguarded machinery hazards.
"Unfortunately, incidents in grain elevators are not rare occurrences," said Charles E. Adkins, OSHA's regional administrator in Kansas City, Mo. "OSHA has found that deaths in grain elevators generally occur because of employer negligence, failure to comply with OSHA standards, and/or poor safety and health practices. All employers, and especially those in high-hazard industries such as the grain industry, must take the necessary steps to eliminate hazards from the workplace."
The willful citation alleges a violation of fall protection requirements, specifically unguarded hatchways and floor chute openings. A willful violation is one committed with intentional knowing or voluntary disregard for the law's requirements, or with plain indifference to worker safety and health. For information on fall prevention, visit http://www.osha.gov/SLTC/fallprotection.
The serious citation addresses hazards associated with unguarded sprocket wheels and chains. A serious citation is issued when there is substantial probability that death or serious physical harm could result from a hazard about which the employer knew or should have known.
Earlier this year, Assistant Secretary of Labor for Occupational Safety and Health Dr. David Michaels sent a letter to businesses in the grain handling industry reminding them of their responsibility to ensure their workers' safety. The letter is available at http://www.osha.gov/asst-sec/Grain_letter.html.
OSHA has proposed $75,000 in penalties for CHS Inc. The company has 15 business days from receipt of the citations to comply, request an informal conference with OSHA's area director in Wichita or contest the findings before the independent Occupational Safety and Health Review Commission. To report workplace incidents, fatalities or situations posing imminent danger to workers, call OSHA's toll-free hotline at 800-321-OSHA (6742).